I have been a lazy bull lately, but finally have gotten around to reissuing another Shu'Halo Life Magazine, this one from the "Seasons Past" three-part series. Although the issue was put out in November of 2010, the screenshots are from my first years with Thunderhoof Clan.
Again, while there is no way for me to remember what text was included in the original run, I will try to put some caption to help describe the context. If anyone has any additional comments on any of the shots, please feel free to add comments.
These were some great years for Thunderhoof, and while some characters are no longer with us, The Herd continues to write great history on VeCo on a daily basis. The ones who have gone another path will be missed and remembered fondly.
Click on any of the pictures for the full-sized slideshow.
Enough of my jawin' - enjoy the walk through Thunderhoof History!
FOR THE HERD!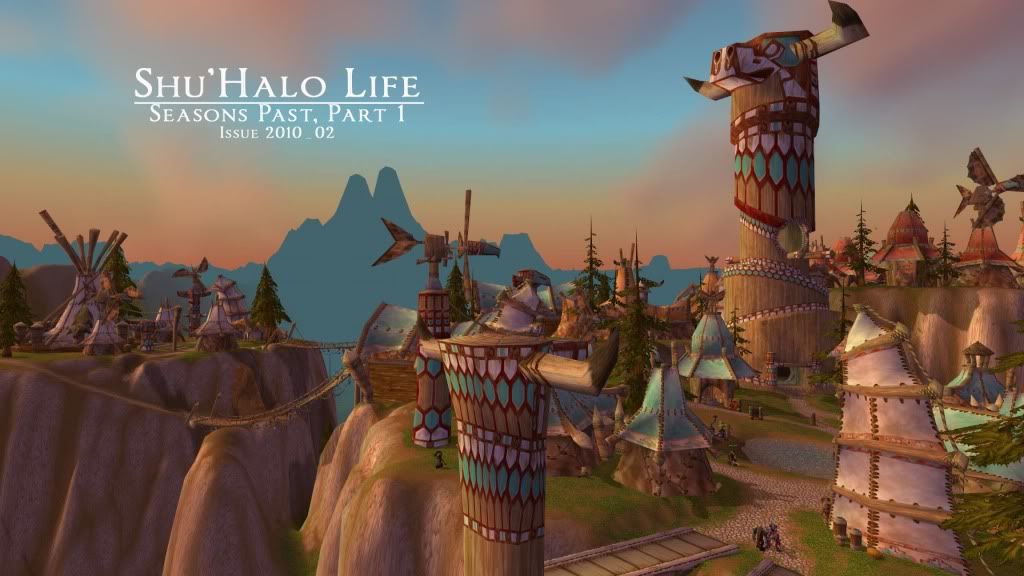 Taken before there was Old World Flying or a zeppelin to Org...
It certainly doesn't smell like oats in there...
Meeting new friends
Let's see the Alliance deal with a Penguin Posse!
Osteroth: The Naked Chef
The Herd and friends hit Black Temple
Security patrol, before WoW was in color
Assisting Blacktooth Grin
T-Bones March for All Hallow's Eve. Lady Syl gives a great show!
DreadHorde sacking of Stromgarde
Kodiac on kodo
Nyimsava's last moments as a Night Elf
On the way to the first Azeroth 500
The DreadHorde prepares for an attack on Allied cities.
What happened to Goldilocks?
Gurubashi THUNDARENA
Fistfight with the Alliance during The Bridge Over Troubled Waters event
No, you go first.
The eve of battle
Flying out of Orgrimmar
Gheistala!
Classic Raid Night success
Aiding the Darkspear
Pink and purple really aren't Herd colors. Let's hit this Belf.
Assault on Theramore Isle
CHARGE!
Raider Power
Taking the wind out of Stormwind
You shall not pass...
Wedding party!
Inspecting the troops
Ooo....ahhh...ohhh...
Rollin' rollin' rollin'
Waiting for the chest
Onward and upward!
Storytelling in the Ruins of Lordaeron
Kings of the Zeppelin
Merry Christmas, Pinkskins
Hunting Omen in Moonglade
Azeroth 500 post-race party
Cleaning up after a boss fight
Mustering in Grom'Gol
Margerie's Birthday shot
Until next time...FOR THE HERD!